OUR HISTORY
James Eadie (1827-1904) was a Scottish brewer who established a significant brewery in 1854. Born near Gleneagles in Scotland, he was one of fourteen children and left school at the age of fourteen to work for his living.
Reported in local papers as a self-made man, Mr Eadie was a quiet individual whose hard work and indomitable perseverance earned him and his family a good living.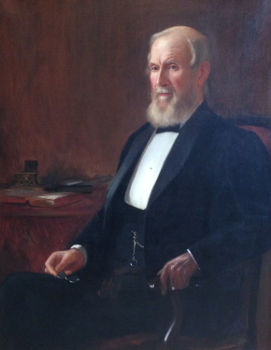 Aside from beer, the Eadie family had their own recipe for a Blended Scotch whisky. Only a few bottles of the original James Eadie whisky remain. To our knowledge all of them are in family hands.
The Scotch whisky and British beer writer of the day, Alfred Barnard, visited the Eadie brewery and wrote up his findings in his famous book, "Noted breweries of Great Britain and Ireland", (Volume 2, 1889).
Barnard reveals how Mr James Eadie had inherited, from his father, a recipe for a Scotch Whisky Blend which he describes as "an ancient Scotch mixture that was dispensed to a favoured few". In fact, the whisky was dispensed quite widely, being available in over 300 of the James Eadie pubs.
Find out more about James Eadie from his great grandson, Alastair.